Robin Williams' Widow Reveals The True Cause Of His Suicide – Video
|
"It was not depression that killed Robin Williams."
In 2014, the world lost an incredible man, actor, and comedian named Robin Williams. Having chosen to take his life via suicide, people reeled upon receiving the news, upset by the mere thought that someone so funny could opt to kill themselves.
Three years later, the late comedian's widowed wife has spoken out in an interview with Good Morning America, and contributing factors to Williams' illness have been revealed. During the interview, Susan expressed:
"It was not depression that killed Robin Williams. Depression was one of let's call it 50 symptoms, and it was a small one."'
Instead, the widow suggests a more likely cause of suicide – a theory which is supported by Robin's doctors.
"I've spent this last year trying to find out what killed Robin," said Susan, "to understand what we were fighting, what we were in the trenches fighting. And one of the doctors said, 'Robin was very aware that he was losing his mind and there was nothing he could do about it."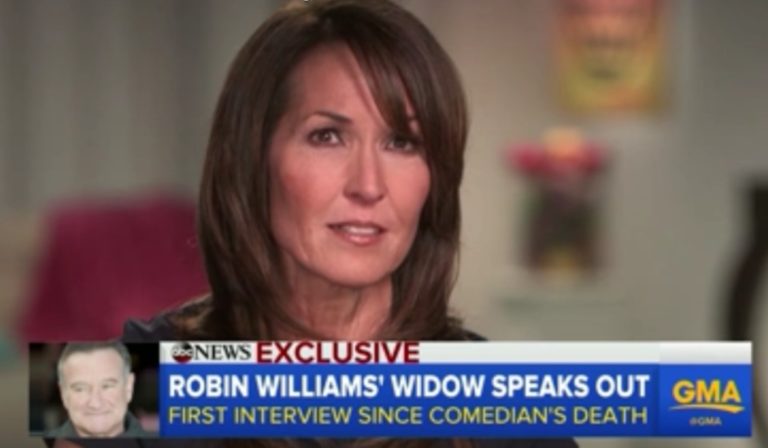 Troubled by his mental afflictions, the comedian likely chose suicide as a final form of control over his own body and destiny. After performing an autopsy on Robin's body, it was discovered that the man who was able to make everyone smile had developed dementia with Lewy bodies (DLB). Right after Alzheimer's, DLB is the most common form of dementia. Symptoms of the affliction include hallucinations, altered mental states, and deteriorating motor functions. Even on a subconscious level, some suspect, he was aware that his body was failing him and sought control.
"I know now the doctors—the whole team—was doing exactly the right things," commented Susan, "It's just that this disease was faster than us and bigger than us. We would have gotten there eventually."
According to Susan, patients with DLB behave like a "pinball machine." You "don't know exactly what you're looking at."
The findings match what Robin exhibited in his final days. Susan says her former husband would go from "totally lucid" one moment to be speaking things that "didn't match" just minutes later. Before he committed suicide, his condition escalated to the point that it seemed "like the dam broke."
Whereas most loved ones harbor anger toward those who left them willingly, Susan is at peace with Robin's final attempt to control his life. She stated:
"I mean, there are many reasons. Believe me. I've thought about this—of what was going on in his mind, what made him ultimately commit, you know, to do that act. And I think he was just saying, 'No.' And I don't blame him one bit. I don't blame him one bit."
Watch the full interview below:
This article (Robin Williams' Widow Reveals The True Cause Of His Suicide [Watch]) is free and open source. You have permission to republish this article under a Creative Commons license with attribution to the author and TrueActivist.com
Other interesting articles:
What Does Marijuana Do To Your Lungs?
This Is Why The Strongest Girls Feel Insecure All The Time
Disclaimer: The content on www.enlightened-consciousness.com is information based on the opinions and scholarship of the authors. This site is intended for educational and commentary purposes only, both of which are strictly protected by Free Speech. Enlightened Consciousness is not responsible for the opinions or content written by its writers. The information on this website is not intended to replace your relationship with a qualified health care professional and is not intended as medical advice. All trademarks and registered trademarks mentioned here are the property of their respective owners and are not used here for commercial purposes. Paid advertising on Enlightened Consciousness may not represent the views and opinions of this website and its contributors. No endorsement of products and services advertised is either expressed or implied. All the pictures and information shown on this blog are the property of their respective owners. We don't hold any copyright about these pictures and news. We are not responsible for any incorrect or incomplete information. These pictures have been collected from different public sources including different websites, blogs considering to be in public domain. If any one has any objection to displaying of any picture and news, it may be brought to our notice by sending message through 'contact us' page & the same will be removed immediately, after verification of the claim. Contact us:
Enlightened Consciousness
.