5 Reasons Why You Should Pee in The Shower
|
So you probably clicked on this article because you're curious, but first made sure to check that no one is reading over your shoulder. And hey, I get it. Peeing in the shower isn't something we tend to openly discuss with others. You might be a shower pee-er yourself, or you might think it's absolutely disgusting. If you're on the fence about the whole thing, here are five great reasons why you should pee in the shower!
1. Everybody's Doing It!
When Glamour conducted a "How Grody Are You?" poll of 1,000 women, they found that about 75% of poll-takers have peed in the shower. I'm not advising you to give into peer pressure, but if you've peed in the shower and you feel a bit guilty about it, these numbers might make you feel a little better.
2. Your Bathroom Will Stay Cleaner
This one is pretty straight forward. Every time you use your toilet, you get one step closer to having to clean it. Even if you have great aim, the backsplash from your pee reach the toilet seat and rim. Since you probably aren't really a fan of cleaning the toilet, pee in the shower! You'll at least be able to prolong your toilet scrub a little longer.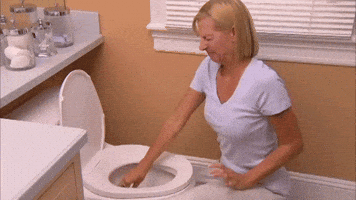 4. It May Help Get Rid Of Foot Fungus
Yep, I'm serious. Pee is an anti-fungal! Thanks to the uric acid and ammonia pee contains, tinkling on your feet can help keep fungal infections at bay. Pee is actually sterile and it's a natural remedy for athlete's foot and other fungi. Basically, you're doing your toes a solid favor, by keeping them fungus-free!
4. You'll Get To Feel Like A Rebel
We all like to feel a little rebellious every once in a while right? For those of you who aren't pierced or tattoo'd or don't own a leather jacket, why not pee in the shower? You'll feel free and you'll feel like rebel, even if it's only for a few seconds.
5. It's Good For The Environment
Toilets use between 1.5 and 3 gallons of water every time you flush. Older toilets use even more! Think about all of the water you can save by peeing in the shower instead. You'll be able to lower your electric bill and have a positive impact on the environment at the same time. Win, win! Save water, pee in the shower, save the planet!
Still not convinced? Check out the video below!
Thanks to davidwolfe for this article.
Other interesting articles:
Couple Builds an Amazing Off-the-Grid Floating Island Home 
Suffering From IBS, Eating Healthy Yet You Still Bloating And Having Problems 
Black Seed is The Remedy For Everything But Death
Disclaimer: The content on www.enlightened-consciousness.com is information based on the opinions and scholarship of the authors. This site is intended for educational and commentary purposes only, both of which are strictly protected by Free Speech. Enlightened Consciousness is not responsible for the opinions or content written by its writers. The information on this website is not intended to replace your relationship with a qualified health care professional and is not intended as medical advice. All trademarks and registered trademarks mentioned here are the property of their respective owners and are not used here for commercial purposes. Paid advertising on Enlightened Consciousness may not represent the views and opinions of this website and its contributors. No endorsement of products and services advertised is either expressed or implied. All the pictures and information shown on this blog are the property of their respective owners. We don't hold any copyright about these pictures and news. We are not responsible for any incorrect or incomplete information. These pictures have been collected from different public sources including different websites, blogs considering to be in public domain. If any one has any objection to displaying of any picture and news, it may be brought to our notice by sending message through 'contact us' page & the same will be removed immediately, after verification of the claim. Contact us:
Enlightened Consciousness
.